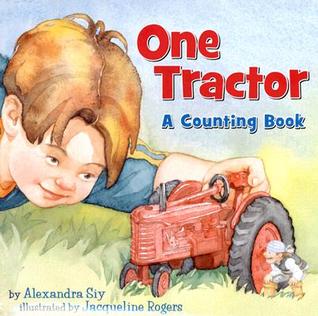 One Tractor: A counting book by Alexandra Sky
Picture book, ages 2-4
Genre: Counting, trucks, transportation
Follow the imagination of a young child as he is visited by two planes, three boats and more while his tractor sits in the grass, out of gas.
This book has been very popular in my household. My son loves the illustrations and the variety of transportation vehicles. I love the rhymes and the variety between ships, trucks and bikes. Its a bit of a twist from just construction books, or just street vehicles.
Two planes
Fly in the sky,
small plane low,
big plane high.
One thing I appreciate about this book is the subtly of the concepts. Yes, it is primarily a counting book. But if you look at this one segment, it's also a book about sizes, and about opposites. The same mentality is carried through the entire book as new groups of machines are introduced. The illustrations are lively and colorful full-page spreads. A little boy playing in the sandpit with an array of toys and a large imagination. This book could even work as a bedtime book. In the last few pages, the words are gone and all we have are images of the ships, the bikes and the trucks leaving as the little boy falls asleep in the grass. All the while, his tractor is stuck without gas.
Primary Reading Skills
New Words (Vocabulary) New and expanded vocabulary is a big theme in this book. Although kids reading this book might already be interested in all things on wheels, this book introduces planes and ships as something new to behold. 
Tell a Story (Narrative Skills) Older children can make up stories or adventures based on what they see in the illustrations. 
How to use this book
For the parents
This is a fun book to read to child and to have your child read on their own. Discuss the different concepts of opposites and sizes in addition to practicing counting. Try counting up to each number on the page each time (ie, count to 2 when you see two planes, count to three when you see three boats.) This will reinforce the numbers for your child.
For librarians
This will be great for a toddler or even a preschool storytime. Kids playing with these toys will relate to the main character and his imagination. Pair it up with other construction books or transportation books. Red Car, Red Bus anyone?
Suggested Reading
 Little Blue Truck by Alice Schertle
 Goodnight, Goodnight, Construction Site by Sherrie Dusky Rinkler
© 2015 by Nari of Ready, Set, Read. All rights reserved. You can also follow me @TheNovelWorld
---